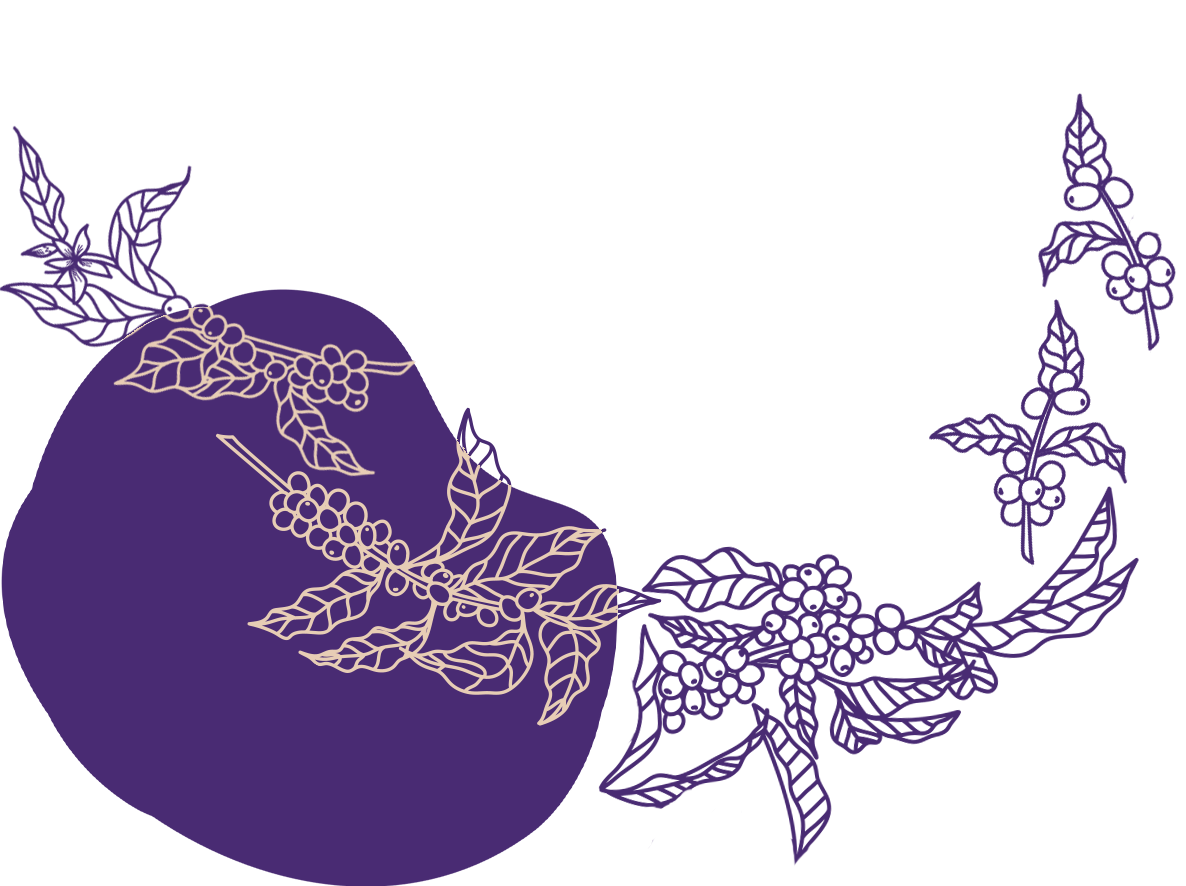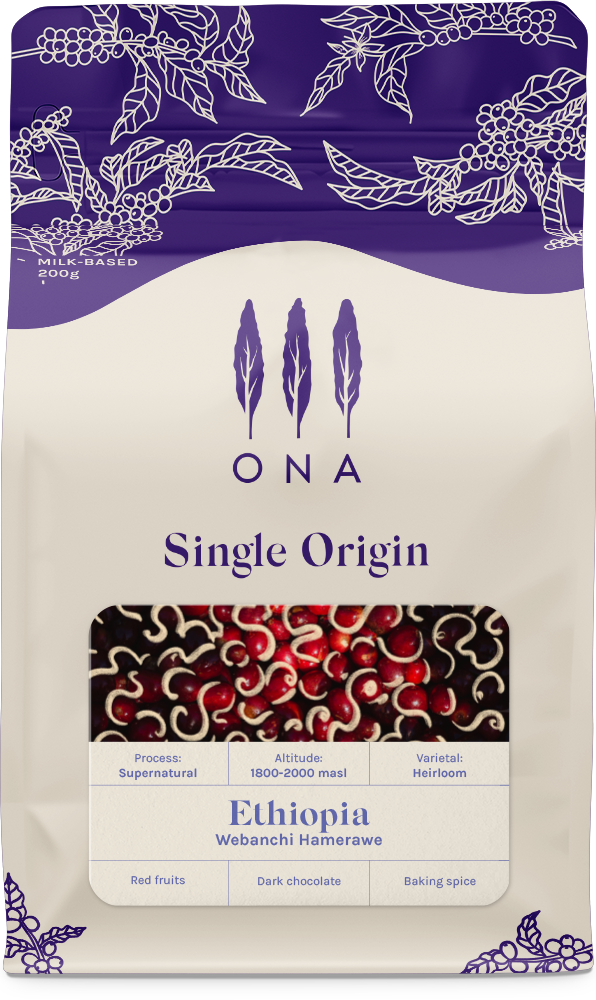 Ethiopia Tibisa, Anaerobic Natural
Sale price

$34.00

Regular price
Citrus, chocolate and berries
Tax included.
Shipping
calculated at checkout.
COFFEE PROFILE
This mixed lot showcases a very smooth and mellow coffee for milk-based drinks. It has a remarkable balance of fresh berries, a mild citrus-like acidity, and creamy milk chocolate-like finish.

| | |
| --- | --- |
| TASTES LIKE | Citrus, chocolate and berries |
| ROAST | Milk-based |

SOURCING
Yirgacheffe (or Yirga Che'fe) is a district in Southern Ethiopia's Sidamo region and is widely recognized as one of coffee's 'birth regions.' Washed coffees coming from this district are so well-known and sought-after that Yirgacheffe is considered its own micro-region. 

Farming methods in the Yirgacheffe region remain largely traditional. Local farmers typically intercrop their coffee plants with other food crops, a common practice among smallholders because it maximises land use and provides food for their families. In addition to remaining traditionally intercropped, most farms are also organic-by-default. Farmers in Yirgacheffe typically use very few if any fertilisers or pesticides. Most farm work is done manually by the immediate family of these so-called 'garden farmers'. 

The majority of coffees grown in Yirgacheffe are local landrace varieties, often referred to under the general term 'heirloom'. Other varieties grown in the region were developed by the Jimma Agricultural Research Centre (JARC), an important research centre for Ethiopian coffee that has done a great deal of work on developing disease-resistant and high-yielding varieties that still demonstrate quality in the profile.
This particular coffee is a mixed lot from various smallholder farmers, brought together to make a regional lot and showcase a general profile for the Yirgacheffe region. Farmers selectively handpick cherries and deliver them to the washing station station, at which employees visually inspect them. For the anaerobic fermentation lots such as this, they accept only fully ripe cherries. The selected cherries are tightly packed in GrainPro bags and sealed shut in an anaerobic (without oxygen) environment for 18 to 24 hours. After fermentation, the cherries are carefully laid to dry in direct sunlight on raised beds, and turned frequently to promote even drying over 2-3 weeks.
| | |
| --- | --- |
| PRODUCER | Various |
| REGION | Yirgacheffe (Yirga Che'fe) |
| VARIETAL | Heirloom |
| PROCESS | Anaerobic Natural |
| ALTITUDE | 1800-1950 masl |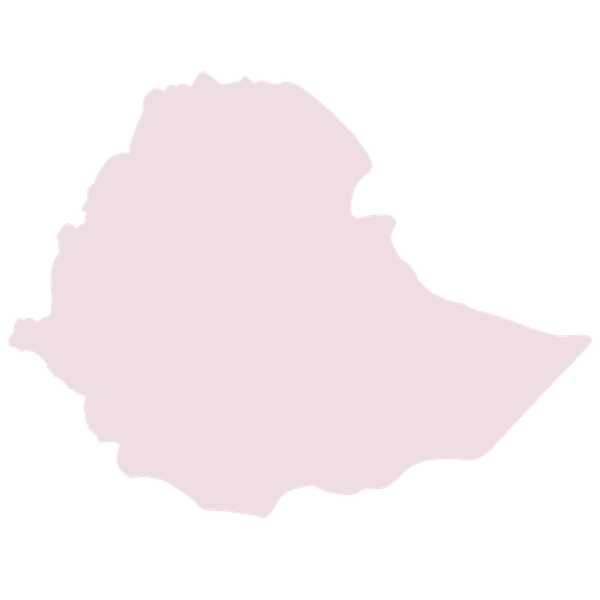 Origin
Yirgacheffe, Ethiopia
While Ethiopia is famous as coffee's birthplace, today it remains a favourite of specialty coffee industry for its incredible variety of flavours and ties to the history of coffee. While full traceability has been difficult in recent history, new regulations have made direct purchasing possible. We're partnering directly with farmers to help them produce top quality specialty lots that are now completely traceable, adding value for farmers and roasters, alike.
The exceptional quality of Ethiopian coffee is due to a combination of factors. The genetic diversity of coffee varieties means that we find a diversity of flavour, even between (or within) farms with similar growing conditions and processing. In addition to varieties, processing methods also contribute to end quality. The final key ingredients for excellent coffee in Ethiopia are the producing traditions that have created the genetic diversity, processing infrastructure and great coffee we enjoy today.
Most producers in Ethiopia are smallholders, and the majority continue to cultivate coffee using traditional methods. As a result, most coffee is grown with no chemical fertiliser or pesticide use. Coffee is almost entirely cultivated, harvested and dried using manual systems.
BREW GUIDE
How to get the best tasting cup
NOTE THESE ARE A STARTING POINT AND INDICATE A RANGE TO WORK WITHIN
| | |
| --- | --- |
| AGE BEST USED | 16-28 days after roast |
| BREW PARAMETERS | Dose 20.5-21g in the basket to extract 38-42g of espresso in 24-30 seconds at 93.5 degrees C. Add 115-120g of milk to each 19-21g single espresso. |
| BEST FREEZE DATE | 18-22 days after roast (smell coffee at 18 days, if it smells heavy and not fruity close the bag wait a few more days before freezing) |